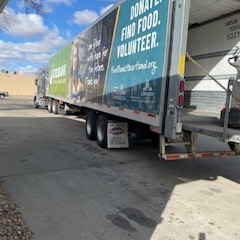 Crossroads partners with FBFH to provide a mobile pantry in Lexington!
As of July, Crossroads Mission Avenue has become Food Bank for the Heartlands' newest Lexington Partner! Mobile food distributions will be provided on the first Thursday of each month! There are no requirements and no cost for the food – EVERYONE is welcome!
Sadly, Lexington is described as the largest food desert in the State of Nebraska. During the April mobile pantry, 349 food boxes were provided, serving 1175 individuals in Lexington! Praise God! Crossroads is excited about the opportunity to provide food services for those with food insecurities in Dawson County. With costs increasing rapidly, some families are forced to decide between buying enough gas to get to work OR buying enough groceries for the week. With this partnership between Food Bank for the Heartland and Crossroads Mission Avenue, help is available to families in Lexington.
Crossroads Mission Avenue AND Food Bank for the Heartland sponsor the mobile food pantries in Lexington on the first Thursday of every month at the Dawson County Fairgrounds at 3pm! The Dawson County Fairgrounds are located at 1000 Plum Creek Parkway in Lexington. Food distribution begins at 3pm, and continue until the supplies run out. The food boxes are provided free of charge.
We ALWAYS need VOLUNTEERS: If you are available to help us pass out food boxes, call Jenna or Linda TODAY at 402-462-6460 for more info! We always need VOLUNTEERS who are willing to help our neighbors! Call NOW if you can donate a few hours to help us HELP OTHERS!
The mobile pantry food distribution will be held on the first Thursday of each month. Mark your calendar with the future dates:
September 1, 2022 at 3pm
October 6, 2022 at 3pm
November 3, 2022 at 3pm
December 1, 2022 at 3pm
January 5, 2023 at 3pm