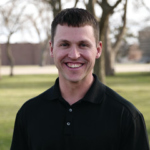 Sonny's Story
"I don't know where I would be today without the help of Crossroads Mission Avenue. All the help they gave me, everything they taught me, it allowed me a fresh start in life."
Sonny had a dark past. The downhill spiral started when he was 12. He began walking away from being a "pretty good boy," drinking and smoking cigarettes. Freshman year of high school brought many changes to Sonny's life; his family moved, his brother graduated and moved away, and Sonny felt alone. His new friends were involved with drugs, and by Sonny's junior year in high school he was a heavy user himself. Then Sonny was taught to use a needle, and for the next 7 years his life revolved around sticking a needle in his arm. Drugs became the only thing he wanted. He could no longer keep a job, was sleeping in his car, closets and grain bins, and started stealing. He was repeatedly arrested and eventually ended up in prison for 2 1/2 years.
Sonny started hearing about God's love from a jailer, and he spent his time in jail and prison learning all he could about God. That jailer heard a radio ad about Crossroads Mission Avenue, and encouraged him to call when the time came for him to leave. After 2 1/2 years in prison, Sonny came to Crossroads Mission Avenue.
Sonny felt loved and cared for at Crossroads Mission Avenue. "We started every day with devotions, and it was so encouraging and uplifting to start every day that way – in praise to God. Through classes we learned how to take care of ourselves, eat well, live on a budget, interview for jobs, save money, and slowly ease back into the community – how to restart life. I needed that help. It prepared me for a better life."
Since leaving Crossroads Mission Avenue he attended college and obtained his ASE-certification to be an auto technician, married the woman of his dreams and purchased a home. Sonny is now a youth pastor, an auto mechanic, husband to his wife Kristen and father to their son Josiah and daughter Taylor.
"I don't know where I would be today without the help of Crossroads Mission Avenue. All the help they gave me, everything they taught me, it allowed me a fresh start in life."
Watch Video