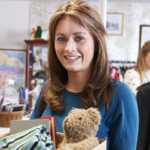 Alayna's Story
"A Divine Intervention"
This Thanksgiving, Alayna is grateful for friends like you who made it possible for her to land on her feet while at Crossroads.
A little over a year ago, her life started unraveling. She was a single mom trying to balance multiple jobs while also pursuing a nursing degree. Things got so overwhelming that she turned to meth to help her cope, and to make it through the day.
"Everything spiraled out of control relatively fast," Alayna says. "My life was out of control."
A possession charge landed her in jail for two weeks. Then the drug court program sent her to Crossroads to continue her rehab.
"I had hit rock bottom, and this was a ground zero moment," she says. "But I knew I needed to do something. I had to completely surrender to the program, and to God. Coming here to Crossroads was all part of a divine intervention."
Alayna says the love, support and encouragement from the Crossroads team helped her find hope and healing. She ended up working full time in one of our thrift stores, and is now that store's manager.
"The thrift store has helped me be in a position to turn my life around," she says. "I've regained the manageability that I had lost so quickly."
During her almost yearlong stay at Crossroads, Alayna's mother cared for her three children. She has since moved out of the shelter and into her own place, reunited with her boys, ages 10, 14 and 15.
"My oldest one told me that he couldn't be more proud of me," Alayna says. "He said he's glad he can have somebody like me to look up to. That made me cry like a baby!"
We couldn't be more proud of the way you help men, women and families find a fresh start. Thank you!