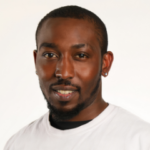 Kairy's Story
"Now I'm Found"
Kairy comes from a loving Christian home, and he's not sure what led him down the path of alcohol addiction. Maybe it was the racism he experienced growing up in Georgia. Maybe it was the stresses of life when he moved out.
Whatever triggered it, Kairy dove into the deep end, battling the bottle and bouts of homelessness. He got in trouble with the law and did some time in jail.
When on probation, the court ordered him to move to a transitional living facility. Kairy chose Crossroads. It might've been the best decision of his life.
Kairy got sober, got counseling, got a good job, got all the help he needed.
"They're good people," Kairy says of the Crossroads staff. "They stand on good things. They helped me with my mental state, with coming back into society."
Writing poetry has also helped. Kairy, who goes by the pseudonym Kûpid for his rap-like rhymes, saying his writing keeps him calm and focused. Here's just a snippet of his work:
I once was lost but now I'm found
But what I lost is nowhere around
My heartbeat I heard, but is it how I sound?
Eyes start to drown as they gaze upon love's crown …
What I'm trying to say is every blessing is a count
Kairy's certainly counting his blessings … starting with supporters like you.
"I can only imagine where I would be without Crossroads," he says. "This is a good place. They always give you a helping hand."
When you give someone a helping hand, it's an extension of your compassion. Thank you!