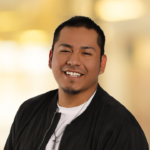 Cole's Story
"I'm a Completely Different Person"
For Cole, the choice was a no-brainer.
He could go back to jail and lose his job. Or he could go to Crossroads Mission Avenue and keep working. He didn't have to think about it: Crossroads, of course.
Cole was fortunate to even be given a choice. He'd been in trouble with the law before, and spent two years in jail on multiple charges. When he was released in April 2020, he was on probation and warned to stay out of trouble. But a few months later, he was busted for driving while intoxicated. That's when his probation officer gave him the choice.
On being given a second chance, Cole says, "I was really thankful." Crossroads is all about second chances. We're a place of grace. "They're not judgmental," says Cole, 27. "They don't look down on you."
Cole, a longtime alcoholic, hasn't had a drink since that DUI. He credits Crossroads, and God, with his transformation. "I'm a completely different person," he says. "I love being sober, and I have no desire to use again. I don't need alcohol or drugs to set off good feelings in my brain. I'm really high on life right now."
Cole, who is Native American, adhered to his culture's spiritual beliefs for most of his life. But at Crossroads, he discovered Christianity, and has fully embraced it. "I've had a spiritual awakening," he says. "Now I believe in the Holy Trinity — God, Son and Holy Spirit." He's motivated to stay sober. He has a good job in the manufacturing business, and he's looking forward to getting his own place again.
"I'm just going to keep working hard," he says. "Thanks to Crossroads, I've got a new view of life."
Thank you for all you do to help people turn their lives around.