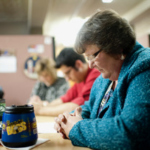 Working at Crossroads impacts our Staff too!
"Crossroads pushes me to be a better person daily"
From a Case Manger:  I have had a wide variety of different types of work throughout my life. Not one of those jobs compares to the satisfaction I feel daily from working for Crossroads. My favorite part is working for the guests. Being able to help them, encourage them, support them, talk to them, lead them on the right path is priceless.  Reality of it is, Crossroads pushes me to be a better person daily and I am extremely Grateful and blessed to be apart of a Wonderfull team.
From a Guest Advocate: I enjoy working for crossroads because I love being able to help people. I have always wanted a job that actually contributes to peoples lives, instead of just being around them all day. As a GA, I get to interact with all kinds of people on many different levels. I feel my job is important because the GA's at crossroads work hand in hand with the case managers and all staff members to help make things happen for people who previously haven't had the same chances.
From our Executive Director: For me, working at Crossroads is both and honor and a privilege. The Bible tells us that when we stand before Jesus, he will take note of the way we have taken care of the less fortunate around us. The homeless in our communities hold a special place in the heart of Jesus, and in my heart as well. Matthew 25 says that he will say, "whatever you did for one of the least of these brothers and sisters of mine, you did for me." This makes my job at Crossroads exciting, an honor, and a privilege because I have the opportunity to serve the Lord by serving those in our community that are needing help at this time in their life. Time after time I have met and become friends with some of the coolest people I know!
From a House Manager: It is an opportunity to help other's. It is what I enjoy most!
Maintenance Team: Daniel lets me do what I love to do. That's why I work so many hours. It is all work that relates to the outside world. Every day is different. We have all the proper tools and if not they will get what I need. It is an opportunity to help others.
From a Program Director:  The most fulfilling work at Crossroads is to help guests appreciate what they've been through, accept where they're at, and realize their future, with some effort, is going to be positive.
Kearney Thrift Store Manager: Being able to help those in need like I was helped when I first came to Crossroads. I feel like I'm making a positive difference with our community.
From our Finance Coordinator: First, unlike my former job in industry, the focus is not on squeezing out more profit. It is much more satisfying knowing Crossroads is helping those less fortunate and spreading the gospel. Second, meeting weekly with the staff to share a devotion and prayers builds the team up and gives us direction. Crossroads is supported by so many generous donors. It is important that Crossroads is a good steward of those donations. That is where I fit in, helping Crossroads be a good steward.
From our Administrative Assistant:  My passion is to serve others, I could not think of a more gratifying, rewarding job and life. I'm so grateful to our guests and to Crossroads. We really are like a family here. My command is this: Love each other as I have loved you. John 15:12
God bless our Team!!